Search & Buy Frontier Airlines Flights
Airlines will always try to sit children with their parents (subject to check-in)
Some airlines will allow travel for unaccompanied minors. Please email us to check.
The fare is based on the child's age on the date of travel.
More detailed information can be found here Traveling with children
Most airlines will let infants travel with their parent(s) for free. However some airlines will charge up to 10% of the adult ticket price. Click on 'Price Breakdown' to find out more.
If you are pregnant, but due before the flight departure date, please contact us once your baby is born and has a name. We can then add him/her to your ticket.
Infants will not be given a seat. The airlines expect parents to travel with them on their lap.
Airlines regard infants as being under 24 months old.
The fare is based on the child's age on the date of travel.
More detailed information can be found here Traveling with children
Buy
Frontier Airlines

Flights
Frontier Airlines Reservations with Alternative Airlines
Make a Frontier Airlines Booking and Find Some Amazing Deals
---
About Frontier Airlines
Frontier Airlines is a United States low-cost carrier headquartered in Denver, Colorado, USA. The airline maintains a hub at Denver International Airport with focus cities in Chicago O'Hare International Airport in Chicago (Frontier Airlines' Chicago routes reservations are a favourite with our customers); Cleveland Hopkins International Airport in Cleveland, Ohio; Miami International Airport in Miami, Florida; Orlando International Airport in Orlando, Florida and Trenton–Mercer Airport near Trenton, New Jersey.
You can easily make Frontier reservations online with us: just use the search bar above! Frontier has recently renewed its frequent-fliers programme which will now be known as "Frontier Miles" and offer its regular customers new and exciting benefits. You can easily make Frontier reservations online with us: just use the search bar above!
---
Frontier Airlines Codeshare Agreement
Frontier Airlines, under a code-share agreement with Great Lakes Airlines, the airline connects passengers to surrounding the Rocky Mountain States through the Denver hub. Frontier Airlines currently flies to 55 destinations throughout the Dominican Republic, Jamaica, Mexico and the United States. In 2016 Frontier expanded its route network, adding four new destinations to its schedule with Pittsburgh International Airport, San Antonio International Airport, Port Columbus International Airport and Colorado Springs Airport.
---
Frontier Airlines Seat Selection
We offer our customers the opportunity to check seat availability and select a seat before making their Frontier Airlines reservation. Whether you need some extra legroom or you love to sit by the window, we give our customers the chance to choose where they want to sit on the plane to make their journey as comfortable as possible. Find out how to book your Frontier Airlines seats.
---
Frontier Airlines Baggage
Carry-on Baggage
Carry-On bag charges vary based on when you purchase. Carry-On bags can be no larger than 10" tall, 16" wide, and 24" long (including handles, wheels, and straps) and no heavier than 35 pounds. Carry-On bags must fit in the overhead bin. Carry-on fees are non-refundable.
Checked Baggage
Checked bags must be within 62 linear inches (that's length + width + depth) and no heavier than 50 pounds.
Additional Baggage
Baggage that exceeds these limits will have an additional charge of $75 for each bag that is overweight and $75 for each oversized bag, and bags over 100 pounds or in excess of 110 linear inches will not be accepted.
Codeshare Agreements Baggage Allowance for frequent flyers
EarlyReturns Elite members always receive a free carry-on bag in addition to the personal item.
---
Frontier Airlines Check-In Information
Online Check-In
Passengers can check-in online using the Frontier Airlines online check-in page and entering the relevant details. Online check-in closes 60 minutes before scheduled flight departure time on both international and domestic flights. If you have booked your Frontier flights with Alternative Airlines, you will receive details of how to check-in online on your e-ticket.
Airport Check-In
Passengers can also check-in at the airport by visiting the check-in counters. Passengers should arrive at the airport no later than two hours before their flight departs. Airport check-in closes 60 minutes before flight departure time for international flights and 45 minutes before flight departure time for domestic flights.
---
Speciality Items and Sports Equipment
Specific restrictions apply to sports equipment. We recommend checking the height and weight restrictions of items such as surfboards and golf clubs with the airline before flying. Bicycles are checked at an additional fee. For information on how to pack your bike for air travel, as well as a breakdown on airline bicycle policies please visit our FAQ page on "Flying with a Bike."
---
Frontier Airlines In-flight Entertainment
To keep costs down for passengers, the airline does not currently offer in-flight entertainment on its flights.
Frontier Airlines TV
Frontier Airlines does not offer in-flight TV shows on its flights.
Frontier Airlines Movies
In order to keep prices low for its passengers, this airline does not offer in-flight movies.
---
Frontier Airlines Food
Frontier Airlines Meal Options
Passengers on Frontier flights can purchase food and snacks for their flights. Passengers can buy a snack and drink bundles to save money, including items such as chocolate, crisps, beef jerky, nuts and confectionery.
Frontier Airlines Special Dietary Requirements
Because they do not provide any meals free of charge, there are no special meals provided. Passengers can purchase snacks and check the ingredients in flight to see if they meet their needs, or alternatively, passengers can bring their own food onto the plane.
Frontier Airlines Drinks & Alcohol
Frontier does not provide any complimentary drinks as part of their service. Passengers can purchase a selection of drinks on board their Frontier flights, including alcoholic beverages like spirits, beer and wine and also soft drinks such as soda, water, coffee and tea.
---
Pay for Frontier Airlines Flights with PayPal
Use PayPal on any Frontier Airlines flight when making a reservation with Alternative Airlines. PayPal is a secure and convenient way to pay for flights to buy Frontier Airlines plane tickets. PayPal is available as a payment option on all Frontier Airlines flights when you book with Alternative Airlines!
You can get a Frontier Airlines ticket discount through the wide range of available flight vouchers and apply it to your PayPal purchase. It's easy to apply at the checkout and with the simple click of the button, you can get access to cheaper air travel.
Set up a payment plan and pay for your flights in instalments with PayPal Credit. You can find out all the steps to buy your airline tickets with PayPal Credit at the payment page during your flight booking.
Find out more reasons to pay for flights using PayPal.
---
Payment Plans
You can buy Frontier Airlines flights on finance when booking with Alternative Airlines. There are many options to choose from that allows you to spread the cost of your Frontier Airlines flights. You choose to use Affirm if you are based in the US or Fly Now Pay Later if you are a UK resident. PayPal Credit can also be used to pay when reserving with Alternative Airlines.
---
Alternative Airlines:
Please click on the logos below to find out more about airlines that fly similar routes:
---
Frontier Airlines Destinations
International Destinations
Calgary
Punta Cana
Montego Bay
Cancun
Guadalajara
Mexico City
Cabo San Lucas
Leon
Domestic Destinations
Atlanta
Austin
Burlington
Charleston
Charlotte
Chicago
Cincinnati
Dallas
Detroit
Fort Myers
Houston
Indianapolis
Jackson
Kansas City
Las Vegas
Los Angeles
Madison
Miami
Milwaukee
New Orleans
New York
Orlando
Philadelphia
Phoenix
Sacramento
San Diego
San Francisco
Seattle
Tampa
Washington, D.C.
Miami - Bradley
Miami - San Juan
---
Frontier Airlines Route Map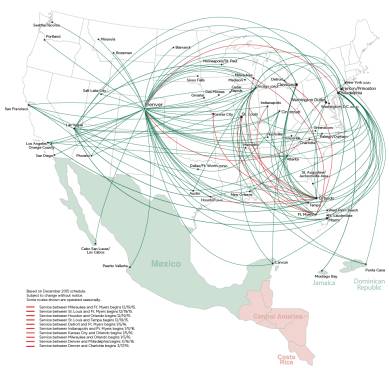 ---
Frontier Airlines Popular Routes
Santa Ana

New York
Santa Ana

Chicago
Los Angeles

New York
Denver

San Fransisco
Washington DC

Santa Ana
Denver

Santa Ana
---
Frontier Airlines Fleet
The Frontier Airlines fleet includes Airbus A319, Airbus A320 and Airbus A321.
---
Hub Airport
Denver International Airport
The airport is the main hub for this airline and also Great Lakes Airlines. It is also the fourth-largest and Central U.S. hub for United Airlines with 375 daily departures to 141 destinations. Within the past decade, DIA has become a major focus city for Southwest Airlines. It also has the third largest domestic connection network in the country. 141 gates spread out over three detached, yet internally connected, concourses (A, B & C) helps to organize the high volume of passenger traffic. Airlines that fly from and to Denver International Airport include AirCanada, Southwest Airlines, Skywest Airlines United and Lufthansa.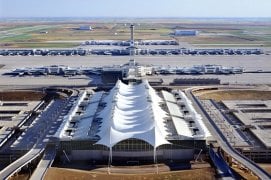 ---

Frontier Airlines Discounts and Deals
You can save money on Frontier Airline tickets with Alternative Airlines. Find all our great Frontier tickets coupons and discounts.
What is Frontier Deal Den?
Frontier Den, or Discount Den, is a new membership scheme with Frontier Airlines. It offers low fares through a subscription and is available for up to 6 people on the itinerary. Find out more information on Discount Den with Frontier Airlines
Even if you are a child or a senior, you can still get a discount on your Frontier Airlines ticket with Alternative Airlines. Save on Frontier Airlines senior discount and on any flight ticket with Alternative Airlines offers and PayPal discount codes.
---
News
Jul 23, 2019
Bradley International Airport adding Frontier flights to Miami
Bradley International Airport has added nonstop flights to Miami aboard low-cost Frontier Airlines. The new service will be seasonal, operating in the cold weather months when folks are looking to escape the New England winter weather.
Source: Mass Live