Search & Buy China Eastern Airlines Flights
Airlines will always try to sit children with their parents (subject to check-in)
Some airlines will allow travel for unaccompanied minors. Please email us to check.
The fare is based on the child's age on the date of travel.
More detailed information can be found here Traveling with children
Most airlines will let infants travel with their parent(s) for free. However some airlines will charge up to 10% of the adult ticket price. Click on 'Price Breakdown' to find out more.
If you are pregnant, but due before the flight departure date, please contact us once your baby is born and has a name. We can then add him/her to your ticket.
Infants will not be given a seat. The airlines expect parents to travel with them on their lap.
Airlines regard infants as being under 24 months old.
The fare is based on the child's age on the date of travel.
More detailed information can be found here Traveling with children
Buy
China Eastern Airlines

Flights
China Eastern Reservations with Alternative Airlines
Make a China Eastern reservation and Find Some Amazing Deals
---
About China Eastern Airlines
China Eastern Airlines is a Chinese airline headquartered at Shanghai Hongqiao International Airport in Shanghai, China. The airline is a major Chinese low-cost airline carrier operating international, domestic and regional routes.
China Eastern Airlines is China's second-largest carrier by passenger numbers and its main hubs are at Shanghai Pudong International Airport and Shanghai Hongqiao International Airport.
China Eastern Airlines is a member of SkyTeam alliance, and in addition, the airline also has codeshare agreements with Asiana Airlines, Etihad Airways, Japan Airlines, Korean Air, Qantas and Virgin America.
In April 2016, China Eastern Airlines announced plans to open branch companies in Qingdao and Guangzhou during 2016. Currently, China Eastern operates five other subsidiaries including Shanghai Airlines, China United Airlines, China Eastern Wuhan, China Eastern Jiangsu and China Eastern Yunnan Airlines.
---
China Eastern Airlines Baggage Allowance
Hand Luggage
Passengers on domestic flights are permitted one piece of carry-on baggage weighing no more than 10kg. First Class passengers are permitted two pieces.
Checked Baggage Allowance for Europe, Australia and Japan Routes.
The baggage allowance for Business and W Class China Eastern Airlines passengers are permitted two pieces of baggage of up to 32 kg each. The baggage allowance for Economy Class passengers is two pieces of baggage up to 23 kg each. The baggage allowance for First Class passengers is three pieces of checked baggage with a maximum weight of 32kg each.
Checked Baggage Allowance for North American Routes.
First-Class and Business passengers are entitled to two pieces of luggage weighing 32kg each. Economy class passengers are permitted two pieces of luggage weighing 23kg each.
---
China Eastern Check-in Information
Online Check-in
Online check-in is available for all passengers with a digital e-ticket.
Alternative Airlines provides an online check-in service for China Eastern. Online check-in opens 24 hours before the scheduled departure time.
Check-in at the Airport
Check-in for your flight from 150 minutes to 45 minutes before the scheduled departure time. Passengers should be at the security checkpoint at least 40 minutes before departure.
---
China Eastern Airlines Class Fares
The class fares available depend on the aircraft and flight duration. The airline's fleet includes an all-Economy Class aircraft, two-cabin aircraft (Business Class and Economy Class) and three-cabin aircraft (First Class, Business Class and Economy Class).
Economy Class
Economy class is the perfect option for value for money.
Economy Class Facilities
Enjoy laptop power points and in-cabin drop-down TV screens.
Economy Class Seating
Enjoy comfortable seats and the highest quality service.
China Eastern Business Class passengers enjoy larger seats as well as greater privacy in reverse herringbone seats. Individual footrests and headrests provided. A minimum seat pitch of 32 inches is guaranteed.
Business Class Seating
Business Class Facilities
Onboard, enjoy laptop power points and individual interactive entertainment system.
Business Class Seating
Passengers flying Business can look forward to indulging in a finest level of luxury and comfort. The new angled lie-flat seats, with in-built massage feature, will ensure you are able to relax.
---
China Eastern Airlines Food
China Eastern Airlines Meal Options
Food provided on China Eastern Airlines flights will depend on the details of your flight, such as start and end location, time of day and duration of the flight. Please contact the airline directly for details of the meal provided on your flight.
China Eastern Airlines Special Dietary Requirements
Passengers on China Eastern Airline flights can pre-order special meals should they require it. These must be pre-ordered before travelling, often 48 hours before. Please see the China Eastern website for a list of special meals available.
China Eastern Airlines Drinks & Alcohol
There is a drink service provided on China Eastern Airlines flights where the duration is long enough to facilitate this service. Alcoholic beverages will be available.
---
China Eastern Airlines Frequent Flyer Program
China Eastern Airlines operates a frequent flyer program to reward regular passengers with the airline, called Eastern Miles. As an Eastern Miles member, you can earn Eastern Miles points through taking CEA flights or partner airlines flights.
---
China Eastern Popular Routes
Shanghai

Nanjing
London

Shanghai
Beijing

Qingdao
Xian

Tunxi
Shanghai

Beijing
London

Xian
---
China Eastern Route Map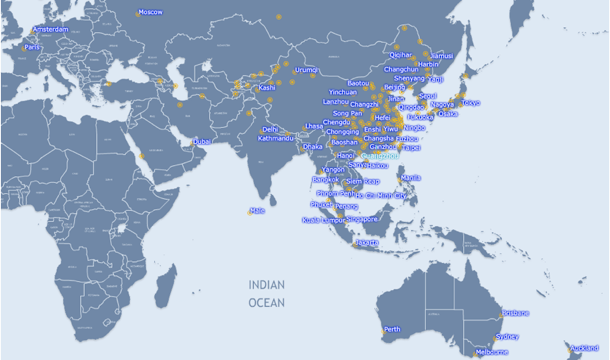 ---
China Eastern Partners
China Eastern is part of the SkyTeam Alliance. The alliance is a leading global airline network, with 20 member airlines. SkyTeam alliance was founded in 2000 and now consists of member airlines such as Aerolineas Argentinas, AeroMexico, Air Europa, China Southern, Alitalia, China Airlines, Delta, Garuda Indonesia, Kenya Airways, KLM and others. SkyTeam Alliance network has nearly 16,323 daily flights, with 1,052 destinations in 177 countries.
---
China Eastern Airport Hub
China Eastern Airlines is based at Shanghai Hongqiao International Airport, which is the main domestic airport serving Shanghai, with limited international flights. Hongqiao International Airport is a hub for Shanghai Airlines, Juneyao Airlines and Spring Airlines.The airport has two runways and has a passenger capacity of nearly 40 million per annum. Other airlines which use Shanghai Hongqiao Airport include Air China, Air Macau, China Southern Airlines, EVA Air, Hainan Airlines, Hebei Airlines, Shandong Airlines, Shanghai Airlines and Japan Airlines.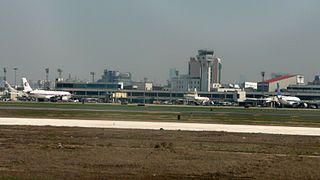 ---
China Eastern Airlines Fleet
China Eastern Airlines' fleet consists of many aircraft including B737s, A330s, A320s, A319s and A300s.
---
Pay for China Eastern Airlines tickets your way
Pay for flights in USD or 160 other currencies of your choice with Alternative Airlines. You can choose from over 25+ payment methods, including PayPal, Apple Pay , Affirm and Alipay You can also set up a flight payment plan.
Check out all of our payment methods here.
---
China Eastern Destinations
International Destinations
Brisbane,
Australia
Cairns,
Australia
Melbourne,
Australia
Perth,
Australia
Sydney,
Australia
Dhaka,
Bangladesh
Phnom Penh,
Cambodia
Siem Reap,
Cambodia
Toronto,
Canada
Vancouver,
Canada
Prague,
Czech Republic
Paris,
France
Frankfurt,
Germany
Hong Kong
Delhi,
India
Kolkata,
India
Denpasar,
Indonesia
Jakarta,
Indonesia
Rome,
Italy
Fukuoka,
Japan
Hanamaki,
Japan
Hiroshima,
Japan
Kagoshima,
Japan
Kitakyushu,
Japan
Komatsu,
Japan
Matsuyama,
Japan
Nagasaki,
Japan
Nagoya,
Japan
Niligata,
Japan
Okayama,
Japan
Okinawa,
Japan
Osaka,
Japan
Sapporo,
Japan
Shizuoka,
Japan
Tokyo,
Japan
Luang Prabang,
Laos
Vientiane,
Laos
Macau
Kuala Lumpur,
Malaysia
Male,
Maldives
Mandalay,
Myanmar
Naypyidaw,
Myanmar
Yangon,
Myanmar
Kathmandu,
Nepal
Amsterdam,
Netherlands
Auckland,
New Zealand
Saipan,
Northern Mariana Islands
Cebu,
Philippines
Clark,
Philippines
Kalibo,
Philippines
Manila,
Philippines
Moscow,
Russia
Saint Petersburg,
Russia
Singapore
Busan,
South Korea
Cheongju,
South Korea
Daegu,
South Korea
Jeju,
South Korea
Muan,
South Korea
Seoul,
South Korea
Madrid,
Spain
Colombo,
Sri Lanka
Kaohsiung,
Taiwan
Taichung,
Taiwan
Taipei,
Taiwan
Bangkok,
Thailand
Chiang Mai,
Thailand
Chiang Rai,
Thailand
Phuket,
Thailand
Surat Thani,
Thailand
Dubai,
UAE
London,
UK
Chicago,
US
Honolulu,
US
Los Angeles,
US
New York City,
US
San Francisco,
US
Da Nang,
Vietnam
Hanoi,
Vietnam
Ho Chi Minh City,
Vietnam
Nha Trang,
Vietnam
Domestic Destinations
| | | | | |
| --- | --- | --- | --- | --- |
| Altay | Anqing | Baise | Baishan | Baoshan |
| Baotou | Beijing | Beihai | Bole | Cangyuan |
| Changchun | Changde | Changsha | Changzhou | Chengdu |
| Chifeng | Chongqing | Dali | Dalian | Daqing |
| Datong | Dazhou | Delingha | Dongying | Dunhuang |
| Enshi | Fuzhou | Ganzhou | Golmud | Guangzhou |
| Guangyuan | Golog | Guiyang | Guilin | Haikou |
| Hami City | Handan | Hangzhou | Hanzhong | Harbin |
| Hefei | Heihe | Hengyang | Hohhot | Hotan |
| Huai'an | Huangshan | Huizhou | Hulunbuir | Ji'an |
| Jiagedaqi | Jiamusi | Jiayuguan | Jinan | Jinchang |
| Jinghong | Jining | Jinzhou | Jiuzhaigou | Jixi |
| Karamay | Kashgar | Korla | Kunming | Kuqa |
| Lancang | Lanzhou | Lhasa | Lianyungang | Linfen |
| Lijang | Lincang | Linyi | Liping | Liupanshui |
| Liuzhou | Lüliang | Luoyang | Luzhou | Mangshi |
| Mangnai | Mianyang | Mudanjiang | Nanchang | Nanchong |
| Nanjing | Nanning | Ngari | Ningbo | Ninglang |
| Ordos | Pu'er | Qianjiang | Qingdao | Qinhuangdao |
| Qiqihar | Rizhao | Sanya | Shanghai | Shangrao |
| Shantou | Shaoyang | Shennongija | Shenyang | Shenzhen |
| Shijiazhuang | Shigatse | Shiyan | Taiyuan | Taizhou |
| Tangshan | Tengchong | Tianjin | Tongliao | Tongren |
| Turpan | Ulanhot | Urumqi | Weihai | Wenshan |
| Wenzhou | Wuhai | Wuhan | Wuxi | Wuyishan |
| Xiamen | Xiangyang | Xiangyang | Xi'an | Xichang |
| Xilinhot | Xingyi | Xining | Xuzhou | Yan'an |
| Yancheng | Yanji | Yantai | Yibin | Yichang |
| Yichun | Yining | Yingkou | Yiwu | Yongzhou |
| Yulin | Yuncheng | Yushu | Zhangjiajie | Zhangjiakou |
| Zhangye | Zhanjiang | Zhaotong | Zhengzhou | Zhongdian |
| Zhongwei | Zhoushan | Zhuhai | Zunyi | |
Destination News
16/07/19 New routes launched from Dalian to Kitakyushu. This new route will begin on 17th August 2019 and operate 3-weekly. The flights will take place on the Airbus A320 aircraft.
---