Search & Buy Avianca Flights
Airlines will always try to sit children with their parents (subject to check-in)
Some airlines will allow travel for unaccompanied minors. Please email us to check.
The fare is based on the child's age on the date of travel.
More detailed information can be found here Traveling with children
Most airlines will let infants travel with their parent(s) for free. However some airlines will charge up to 10% of the adult ticket price. Click on 'Price Breakdown' to find out more.
If you are pregnant, but due before the flight departure date, please contact us once your baby is born and has a name. We can then add him/her to your ticket.
Infants will not be given a seat. The airlines expect parents to travel with them on their lap.
Airlines regard infants as being under 24 months old.
The fare is based on the child's age on the date of travel.
More detailed information can be found here Traveling with children
Buy
Avianca

Flights
Avianca Reservations with Alternative Airlines
Make an Avianca Booking and Find Some Amazing Deals
---
About
Avianca has been the national carrier of Colombia since 1919 and is part of the Synergy Group that incorporates Ocean Air (Brazil) and VIP (Ecuador). The airline is the largest airline in Colombia and second largest in Latin America. With its subsidiaries, Avianca has the most extensive network of destinations in Latin America and is one of the main airlines connecting South America with the rest of the world. Operating from its hub in Bogotá to over 25 destinations in Colombia, and more than 40 destinations in the Americas and Europe. In 2019, the airline is celebrating its 100th anniversary.
The Colombian carrier is the world's second oldest airline still in operation and is the oldest continuously operating airline in the Western Hemisphere.
In 2009, Avianca merged with TACA and took on several of its routes and services. This marked one of the biggest airline mergers in history, as TACA was historically one of South America's largest airlines.
Some of its key direct services to fly to Colombia from London, Munich, Madrid and Barcelona. Alternatively, connections to Colombia can be made through major gateways in the US (Miami, Fort Lauderdale and New York).
---
Fleet
The airline has a fleet that is predominantly made up of Airbus aircraft, although it does a number of Boeing, Cessna and Embraer aircraft as well. In total, the airline has over 130 aircraft within its fleet and is regularly adding and updating its aircraft.
---
Subsidiaries
---
Check-In Information
Online Check-In
Passengers have the opportunity to check in for their flight using our online check-in page. From there, click on the airline logo which will take you to the Avianca online check-in page. You can use either your reservation code or your e-ticket number to check-in to your Avianca flight online. Web check-in opens 24 hours before your flight time.
Airport Check-In
To check-in at the airport, Avianca state that passengers must arrive at the check-in counters at least three hours before the flight if flying internationally and at least one hour before their flight if flying domestically. The airline also gives the option for passengers to check-in using self-service kiosks at the airport. Passengers must simply enter their details into the self-service kiosk and print their boarding pass at the airport. Passengers can check-in on all flights using a self-service kiosk from 24 hours before your flight.
If flying domestically within Colombia, check-in using the self-service kiosk closes 35 minutes before scheduled flight departure time. If flying domestically within Peru, self-service kiosks are available for check-in up until 45 minutes before scheduled flight departure time. If flying anywhere else, kiosks close one hour before your flight departure time.
---
Baggage Allowance
Carry-on Baggage
Passengers are entitled to one item of free carry-on baggage. The baggage must be no larger than 115cm in dimension and be no heavier than 10kg in weight. These rules apply to passengers flying in all classes.
Checked Baggage
Passengers in Economy Class are entitled to one item of free checked baggage. Checked baggage must not exceed the dimensions of 158 cm and must be no heavier than 23kg. Those flying in Business Class are entitled to two items of free checked baggage with a maximum combined weight of 32kg. The dimensions of each individual bag must not exceed 158cm.
Need more baggage? Add extra baggage to your Avianca booking at the time of purchase with Alternative Airlines.
---
Speciality Items and Sports Equipment
Specific rules and regulations apply to flying with sports equipment. Always check the airline's height and weight regulations before flying with items such as surfboards, golf clubs and bicycles. Bowling equipment, tennis rackets and fishing equipment can be checked onto your Avianca flight at no additional cost if they do not exceed 23kg. Bicycles can be checked (for an additional fee) as long as they weigh less than 32kg and do not exceed 230 lineal cm. For more information on flying with your bicycle please see our FAQ page on "Flying with a Bike."
---
Economy Class
Economy class is the airline's lowest cost cabin class. You can choose between the Economy Class fares — Super Promo, Econo and Flexi. While the inflight facilities and seating is the same with each fare, passengers do receive other perks when purchasing a higher priced fare, such as seat-pre selection and free cancellations and changes.
Economy Class Facilities
Economy Class offers a wide range of inflight entertainment, as well as a breakfast, lunch and dinner menu, depending on the time of the day that you fly.
Economy Class Seats
Economy Class offers comfortable seats with legroom. On long-haul flights, a personal TV is fitted to each seat.
---
Premium Economy
The airline doesn't have a Premium Economy Class. Passengers that would like to upgrade from Economy should consider the airlines' Business Class.
---
Business Class
Passengers who have booked Economy Class have the option to upgrade via Aerovias' Plusgrade Auction System, or, alternatively, last-minute at the airport if there are seats still available in Business Class.
Business Class Facilities
Benefits of traveling as a Business Class passenger include priority boarding, VIP lounges, two pieces of baggage allowance, a special food and drink selection on-board, and priority baggage tagging, so that your baggage will be ready to pick us as soon as possible upon arrival.
What are Business Class Seats Like?
The comfortable Business seating will recline to a sleeping position, and personal touch screen TV's are provided. Amenities also include a pillow and blanket, shoe bags, travel kit, plenty of storage space, seat and light controls, USB port, and international plug.
---
First Class
The airline doesn't have a First Class cabin. Business Class is the airlines' highest-tier of cabin class.
---
In-flight Services
In-flight Entertainment and Wifi
The airline provides individual TVs on some of their aircraft where films, TV programmes, music and flight map can be found. However, for the aircraft do not have this service, The airline also has an app, called 'Avianca Entertainment' which can be downloaded to passengers personal mobiles, computers or tablets where the same entertainment can be accessed. The airline provides power outlets for passengers to charge their personal devices. This service is not available on Airbus A318 or Embraer 190 Aircraft. Passengers can enjoy high-speed WiFi, with prices displayed to them once connected to their network, where passengers can choose their payment option.
---
Airport Hub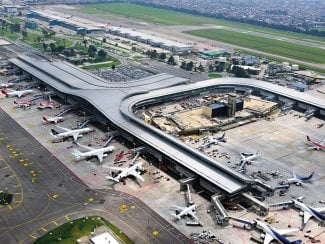 El Dorado International Airport (BOG)
El Dorado International Airport is the airport hub for Avianca. The airline has been based at El Dorado international since 1998. With El Dorado International, the Colombian carrier is able to offer its passengers a fantastic gateway to domestic destinations within Colombia, as well as international destinations to other parts of South America, Central and North America and Europe. Located in west Bogota, El Dorado International Airport opened in 1959. The airport is split into two main airports — Terminal 1 and Terminal 2.
Terminal 1 is the main terminal at El Dorado International for international flights, as well as serving a number of domestic services too. In total, Terminal 1 serves over 70 routes from Bogota. The terminal has an array of different retail shops, with duty-free, a selection of restaurants and the popular Colombian coffee shop Juan Valdez Café. Avianca uses Terminal 1 for both domestic and international.
Terminal 2 is mainly used for domestic flights. With considerably less passenger traffic than Terminal 1, Terminal 2 has around half fewer shops, restaurants and coffee shops. Avianca uses Terminal 2 to connect its passengers to different destinations within Colombia, including Armenia, Cartagena, Medellin, San Andrés and many other domestic cities within the country. Other airlines that fly from the airport include Wingo, Avior Airlines, Satena, Líneas Aéreas Suramericanas and Copa.
---
Route Map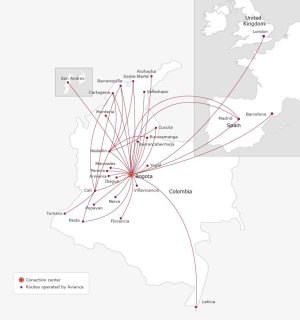 ---
Popular Routes
Bogota

Cartagena
Bogota

Santa Marta
Bogota

San Andres
Bogota

Leticia
Bogota

Madrid
Bogota

Miami
Bogota

Boston
---
Alternative Airlines
---
Direct Flights
The airline offers a number of direct flights from Bogotà to international destinations outside of South America. Here's a list of which countries that the airline offers direct flights to in each continent.
Europe
Barcelona
Florencia
London
Madrid
North America
Boston
Fort Lauderdale
Miami
New York
Orlando
Washington
Central America
Cancun
Guatemala
Mexico City
Panama
Punta Cana
Santo Domingo
Asia and Australia
The airline doesn't currently fly from Bogota to any destinations in Asia or Australia.
---
Destinations
Domestic Destinations
| | | | |
| --- | --- | --- | --- |
| Armenia | Barrancabermeja | Barranquilla | Bucaramanga |
| Cúcuta | Florencia | Ibagué | Leticia |
| Manizales | Medellin | Montería | Neiva |
| Pasto | Pereira | Popayán | Riohacha |
| San Andrés Island | Santa Marta | Tumaco | Valledupar |
| Villavicencio | Yopal | | |

Internatonal Destinations
| | | | |
| --- | --- | --- | --- |
| Barcelona | Boston | Buenos Aires | Cancún |
| Chicago | Fort Lauderdale | Guatemala City | Guayaquil |
| Havana | La Paz | Lima | London |
| Los Angeles | Madrid | Manaus | Mexico City |
| Miami | Montego Bay | Montería | Montevideo |
| Munich | Nassau | New York City | Oranjestad |
| Orlando | Panama City | Phillipsburg | Porlamar |
| Punta Cana | Quito | Rio de Janeiro | San José |
| San Juan | San Salvador | Santa Cruz | Santiago |
| Santo Domingo | Säo Paulo | Washington D.C | Willemstad |
---
Book Avianca Flights in English English
Book your Avianca flights with Alternative Airlines to be able to book in English. We offer a trusted booking service in English when booking your flights. We want to make the reservation as easy as possible, that's why we allow our customers to book in English and pay in multiple currencies.
---
Pay For Flights with PayPal
Buy your Avianca airline tickets with PayPal and Alternative Airlines. All you need is your email address and password to remember your login and pay for tickets with PayPal!
---
Discounts and Deals
Pay with PayPal and get an Avianca ticket discount with Alternative Airlines. There are many flight voucher codes and PayPal promo codes to choose from and use on airline tickets. Save with a PayPal promo code!
---
Bogota Travel Guide
Flying to Bogotà with Avianca? Take a read at our local's guide to Colombia's capital city to prepare you for your trip!