Search & Buy Allegiant Air Flights
Airlines will always try to sit children with their parents (subject to check-in)
Some airlines will allow travel for unaccompanied minors. Please email us to check.
The fare is based on the child's age on the date of travel.
More detailed information can be found here Traveling with children
Most airlines will let infants travel with their parent(s) for free. However some airlines will charge up to 10% of the adult ticket price. Click on 'Price Breakdown' to find out more.
If you are pregnant, but due before the flight departure date, please contact us once your baby is born and has a name. We can then add him/her to your ticket.
Infants will not be given a seat. The airlines expect parents to travel with them on their lap.
Airlines regard infants as being under 24 months old.
The fare is based on the child's age on the date of travel.
More detailed information can be found here Traveling with children
Buy
Allegiant Air

Flights
Allegiant Air Reservations with Alternative Airlines
Make an Allegiant Air Booking and Find Some Amazing Deals
---
About
Founded in 1997, Allegiant Air is an American low-cost airline, operating numerous domestic routes. Allegiant Air was originally named WestJet Express but rebranded a year after it was established.
Allegiant Air's top destinations include Orlando, Las Vegas, St. Petersburg, Phoenix, Los Angeles, Punta Gorda, Cincinnati, Myrtle Beach, Fort Lauderdale and Bellingham. Allegiant Air's fleet consists of a mix of Airbus and McDonnell Douglas aircraft. The airline has over 90 aircraft within its fleet. Altogether, the airline flies to over 115 destinations.
From America's favourite small cities to world-class destinations, Allegiant makes leisure travel affordable and convenient. With low-cost fares and premier travel partners, the airline provides a complete travel experience, for great value but without the hassle!
The American carrier also has authority for charter services to Canada and Mexico.
---
Baggage Allowance
Carry-on Baggage
Allegiant Air has a baggage policy that allows passengers to bring one free personal item, such as a purse, briefcase, or small backpack. The maximum dimensions are 7 x 15 x 16 inches.
Passengers can also purchase one carry-on bag per passenger, measuring no larger than 23 x 38 x 41 cm.
Checked Baggage
There's no free baggage allowance on Allegiant Air flights. Checked baggage must be purchased.
Passengers can purchase up to four checked bags per passenger. Checked baggage cannot weigh more than 18kg per item and must be no larger than 203 cm overall.
Baggage Costs
Allegiant's baggage fees vary based on factors including fare class, frequent flier status, and specific route flown; we advise that you consult Allegiant's website to calculate the fee you will be required to pay.
---
Check-In Information
Online Check-In
Allegiant Air's online check-in opens 24 hours before the scheduled flight departure time and closes 45 minutes before. Passengers can check-in online using the Allegiant Air online check-in page and by entering their flight details.
Airport Check-In
Airport check-in closes 45 minutes before Allegiant Air's scheduled flight departure time. We recommend arriving at the airport at least two hours before scheduled flight departure time to allow time to check-in for your Allegiant Air flight, adding extra time if you're bringing checked baggage.
---
Destinations
Albany
Albuquerque
Allentown
Anchorage
Appleton
Asheville
Austin
Baltimore
Bangor
Belleville
Bellingham
Billings
Bismarck
Bloomington
Boise
Bozeman
Bristol
Cedar Rapids
Charleston
Charlotte
Concord
Chattanooga
Chicago Rockford
Cincinnati
Clarksburg
Cleveland
Columbus
Dayton
Denver
Des Moines
El Paso
Elmira
Eugene
Evansville
Fargo
Fayetteville
Flint
Fort Lauderdale
Fort Walton Beach
Fort Wayne
Fresno
Grand Forks
Grand Island
Grand Junction
Grand Rapids
Great Falls
Greensboro
Greenville
Gulfport
Hagerstown
Harrisburg
Huntington
Idaho Falls
Indianapolis
Jacksonville
Kalispell
Kansas City
Knoxville
Laredo
Las Vegas
Lexington
Little Rock
Los Angeles
Louisville
McAllen
Medford
Memphis
Milwaukee
Minot
Missoula
Moline
Monterey
Montrose
Myrtle Beach
Nashville
New Orleans
Newark
Nashville
New Orleans
Newark
Newburgh
Niagara Falls
Norfolk
Oakland
Ogden
Ogdensburg
Oklahoma City
Omaha
Orlando Sanford
Owensboro
Palm Springs
Pasco
Peoria
Phoenix
Pinellas County
Pittsburgh
Plattsburgh
Portsmouth
Providence
Provo
Punta Gorda
Raleigh
Rapid City
Reno
Richmond
Roanoke
Rochester
St.Cloud
St.George
San Antonio
San Diego
San Juan
Santa Maria
Sarasota
Savannah
Shreveport
Sioux Falls
South Bend
Springfield
Stockton
Syracuse
Toledo
Tuscon
Tulsa
Wichita
---
Economy Class
Economy Class is Allegiant's only cabin class.
Economy Class Facilities
Allegiant offers a simple service, with no inflight entertainment or Wi-Fi. However, passengers can bring their own personal electronic devices to use inflight, as long as it fits within the carry-on baggage limit.
Food and drink are available to purchase onboard with a selection of snacks, as well as alcoholic and non-alcoholic beverages.
Passengers can check-in online and are also given the option to pre-purchase a specific seat.
Economy Class Seats
Seats are set out in a 3 x 3 formation with 14 inches of width and between 30–34 inches of pitch. Each seat is made of leather.
---
Premium Economy
The airline doesn't have Premium Economy on its flights.
---
Business Class
The airline doesn't have a Business Class cabin.
---
First Class
The airline doesn't offer First Class.
---
Route Map
---
Popular Routes
Los Angeles

Monterey
Oakland

Los Angeles
Palm Springs

Los Angeles
Los Angeles

Florida
West Palm Beach

Los Angeles
Los Angeles

Savannah
---
Fleet
The Allegiant Air fleet includes Airbus A319-100 and A320-200 aircraft.
---
Hub Airport
Los Angeles International Airport
Los Angeles is the main airport serving Los Angeles Area and serves as the hub airport for American Airlines, United Airlines, Alaska Airlines, Great Lakes Airlines and Virgin America.
Other airlines which fly to and from Los Angeles include Aer Lingus, Aeroflot, Aeromexico, Air Berlin, Air Canada, Air China, Air France, Air New Zealand, Air Tahiti Nui, Philippine Airlines, Singapore Airlines and previously ATA Airlines before it ceased operations in 2008.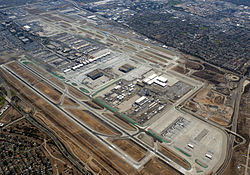 ---
Deals and Offers
Looking for deals and promo coupons? Alternative Airlines offer a whole range of Allegiant deals. Book flights with Alternative Airlines and save on your reservation when you book with PayPal. There are many air discount airfares you can buy with Alternative Airlines, so don't miss out.
---
Buy Allegiant Air tickets in Installments
You can finance your Allegiant Air tickets with Affirm and pay in 3 - 12 monthly installments when you book with Alternative Airlines! Easy and quick to process. You can also pay with PayPal Credit.
---
Alternative Airlines
---
News
2nd November 2018
Allegiant Air retire MD-80 aircraft at end of November
The airline will retire its very last MD-80 aircraft at the end of this month. The US domestic carrier — that also offers one international flight to Puerto Rico — will operate its final service with the MD-80 aircraft on November 25th 2018. The MD-80 has served Allegiant Air for almost 30 years now, so the exit of this aircraft type certainly signifies the end of an era.
As of today, there are still 20 MD-80 aircraft active within its fleet. However, each one of them will be phased out by the end of the month. The airline is expected to replace its fleet of MD-80s with an intake of Airbus A320, which the airline made a significant order of three years ago.
1st September 2018
Allegiant Air expand connectivity with Punta Gorda
The American carrier is adding several new routes flying between Punta Gorda Airport and other domestic American destinations from November onwards. The airline is hoping that the total of four new routes will help bring in over 55,000 extra visitors per year.
The first is a service from Eppley Airfield, Omaha, Nebraska, which will begin flight on 14th November 2018.
The second is a service from Syracuse Hancock International Airport (SYR), New York and will opeare its inaugural flights on 15th November 2018.
The third is a flight from Appleton International Airport, Wisconsin, which will begin service on November 16th 2018.
---